Do-It-Yourself Approaches Are Common In Wisconsin Aquaculture
Farmers Adapt When Raising Fish And Shrimp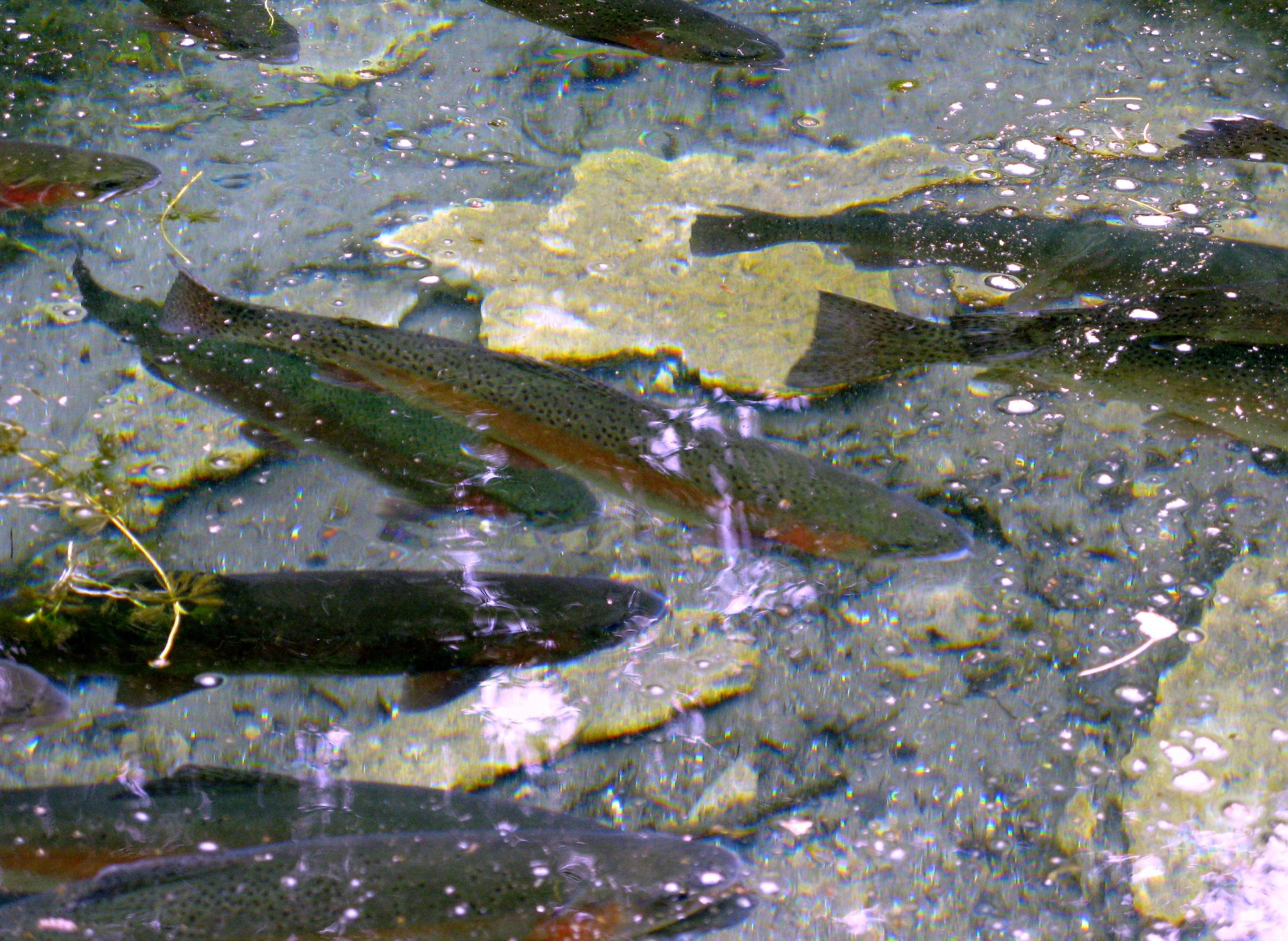 Wisconsin is quietly becoming a regional powerhouse in fish and shrimp farming, an industry that supplies about half of the seafood people eat around the world. The practice of raising rather than catching seafood is called aquaculture, and it's growing across the state as buildings ranging from barns to old schoolhouses are converted into year-round facilities.
Wisconsin's fish-farming industry is picking up again after spending several years on something of a plateau. A few people involved in aquaculture in the state discussed their work and perspectives of the industry on the July 10, 2017 edition of Wisconsin Public Radio's The West Side.
Mike Hable, who along with his wife Sally runs a bakery in Bloomer, explained why they branched out into small-scale shrimp farming. He shared some of the lessons they've learned while building the operation, named Bohemian Oceans Shrimp.
"I have an old barn, I was a dairy farmer for 27 years before I was in the bakery business," Mike Hable said. In the spring of 2014, the Hables began converting that barn, setting up eight of what he called "just your average Farm & Fleet swimming pools" to grow saltwater shrimp.
They heat their barn to about 94 or 95 degrees Fahrenheit year round, because the shrimp need warm conditions to grow — in contrast to the most common product in Wisconsin aquaculture, the rainbow trout, which needs cooler water.
The Hables' next step was to order post-larval shrimp from a company in Florida.
"They're about the size of an eyelash," Mike Hable said. "They ship them overnight, FedEx, in a Styrofoam box and two bags of water. You have 15,000 shrimp in each bag …theoretically, about 125 days later, you have a saleable crop."
Shrimp are sensitive to heavy metals, as the Hables learned the hard way. Naturally occurring copper in groundwater the operation was using for its pools accumulated over time, and eventually ended up killing off an entire crop of shrimp.
"I guess the saying in the shrimp business is that if you haven't killed a million shrimp, you haven't been doing things," Mike Hable joked, adding that he's since installed additional filtration to keep this copper and other metals out of the shrimp pools.
Jeremiah Fredrickson, co-owner of Bullfrog Fish Farm in Menominee, talked about the different ways in which his operation tries to realize efficiencies. Hable discussed his work to improve his practices as well. Both use aquaculture waste, from excrement to discarded fish or shrimp pieces that can't be processed, for various purposes, including fertilizer and feed. Hable heats his barn using scrap wood a friend gives him, which saves possibly thousands of dollars in electricity costs per month.
Hable also discussed using bacteria and other microorganisms to filter out nitrate and pathogens from his shrimp pools, and even how they can process shrimp waste into what eventually can be used as feed again.
Aquaculture operations in Wisconsin vary widely in terms of their size, what they raise and what they do or don't do in-house. Of the approximately 2,800 registered fish farms in the state, only about 130 produce fish on a big commercial scale, said Chris Hartleb, a fisheries biology professor at the University of Wisconsin-Stevens Point and co-director of its Northern Aquaculture Demonstration Facility in Bayfield. Some registered fish farms are simply backyard ponds stocked by private landowners.
How registered fish farms distribute their products can vary. The Hables' shrimp operation doesn't do any processing and sells directly to consumers. Bullfrog Fish Farm mostly raises rainbow trout, selling to regional stores and restaurants, and processing some into specialty products like a "Famous Smoked Trout Spread."
Hartleb said that such do-it-yourself approaches are typical in Wisconsin aquaculture.
"The fish farmers in Wisconsin, I think, do just about everything," he said. "If they're located close enough to the bigger cities of Milwaukee, Chicago, and Minneapolis, they'll certainly work with the retailers there to sell it. But a lot of fish farms, and I know Bullfrog's an example, you can just go right to the farm and purchase the fish from farm to table."
There's further evidence of that adaptability in the increased interest in aquaponics, the practice of raising fish and plants together in one self-sufficient system.
"There's a growing interest in aquaponics," Hartleb said. "People really like that concept because you get to raise an entire meal right there on your farm, from your vegetables to your protein."
The word "farm" is important to Hartleb and other supporters of aquaculture. He said that until recently, Wisconsin's water regulations treated aquaculture differently than other forms of agriculture. That changed with a law enacted in June 2017.
Sponsored by state Sen. Tom Tiffany, R-Hazelhurst, 2017 Senate Bill 95 treats aquaculture operations more like conventional farms by changing regulations and permitting processes dealing with how they use and discharge water. It gives aquaculture businesses greater access to natural bodies of water, and loosens some restrictions on the construction of fish ponds and artificial wetlands.
Aquaculture in Wisconsin was, of course, growing before that bill became law, and opponents said it wasn't appropriate to applies rules devised for livestock like cows and chickens to fish and shrimp. Hartleb said previous aquaculture regulations made the state an expensive place for fish farmers to set up shop, though.
He also sees potential in international markets, where consumers who can afford good seafood are developing a preference for American-raised product.
"[The U.S. is] exporting a lot of the good fish to other countries," Hartleb said.
This report was produced in a partnership between PBS Wisconsin and Wisconsin Public Radio. © Copyright 2023, Wisconsin Educational Communications Board and the University of Wisconsin-Madison.