Milwaukee, Race And Public Media: An Excerpt From 'Wisconsin On The Air'
The Story Behind The Creation Of The 1968 Documentary 'Pretty Soon Runs Out'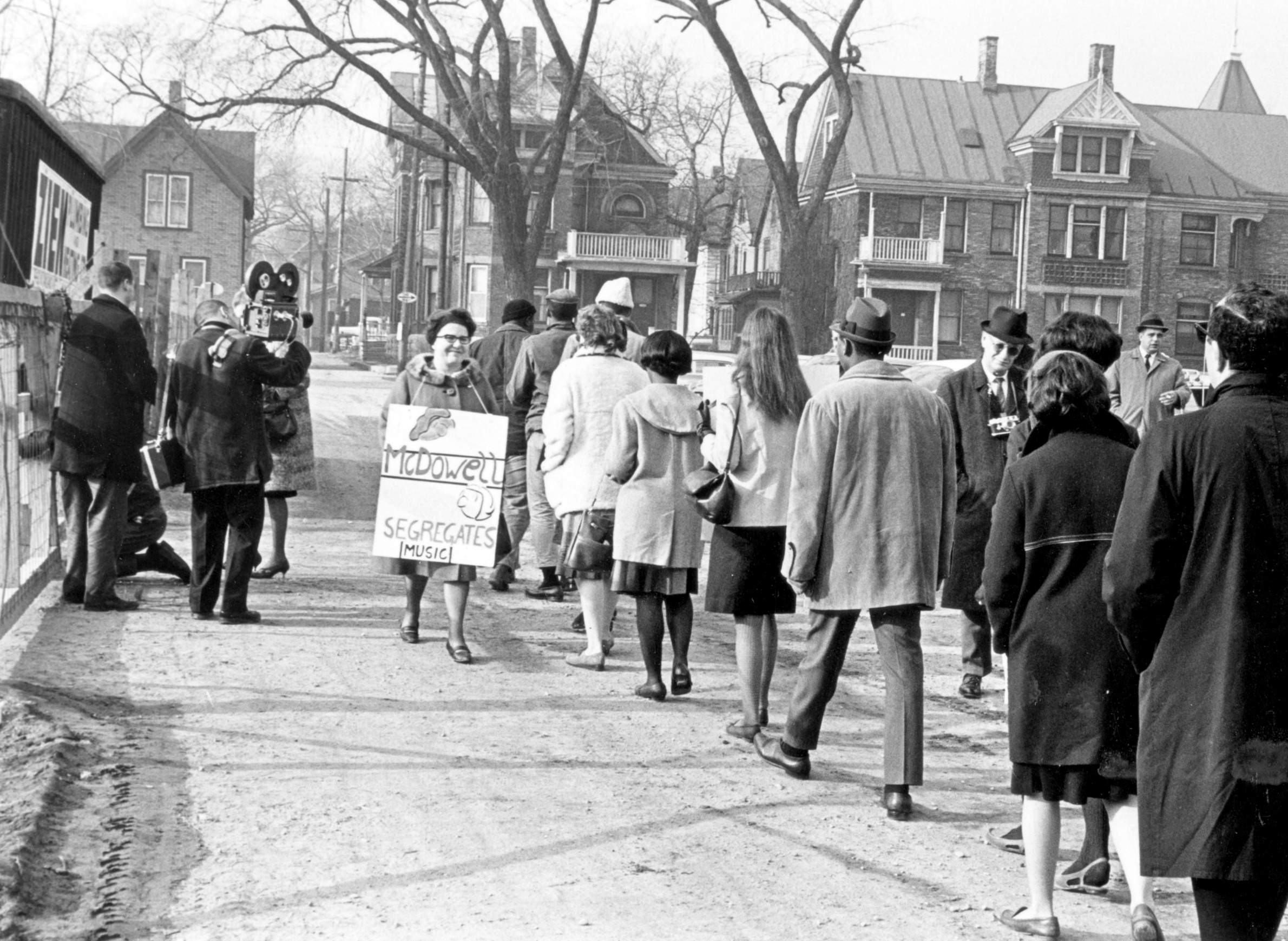 Pretty Soon Runs Out is a 1968 documentary about the effects of urban renewal in the inner core of Milwaukee. Produced, directed and edited by documentarian Fred Wardenburg in association with the University of Wisconsin-Extension, the film is maintained by Wisconsin Public Television in its archives. Its creation is detailed in the new book Wisconsin on the Air: 100 Years of Public Broadcasting in the State That Invented It, written by Jack Mitchell, former director of Wisconsin Public Radio and a University of Wisconsin-Madison journalism professor, and published by the Wisconsin Historical Society Press. The story of the documentary is central to a chapter about the nascent relationship between public broadcasting and UW-Extension in the 1960s, and highlights the longstanding nature of economic and social disparities in Milwaukee and their relationship with racial unrest.
Urban unrest in Milwaukee in the summer of 1967 provided the impetus for an initiative out of the comfort zone for educational broadcasting and other traditional Extension units. Although less destructive of life and property than uprisings in other major cities, the demands heard from racial minorities in Milwaukee — and the demonstrations that dramatized them — shocked Milwaukee's white residents. Even more shocked were Wisconsinites living outside the metropolitan area. Governor Warren Knowles called on all government units to do what they could to address the problems, but even before the start of that long, hot summer, [UW Extension Chancellor Don] McNeil had set a project in motion. All divisions of UW Extension would shift their traditional focus from rural to urban Wisconsin. A revitalized Wisconsin Idea would help residents of Milwaukee's inner core deal with the problems they faced and help residents throughout Wisconsin understand life in the inner city. The boundaries of the city would become the boundaries of the state. McNeil assigned television and radio to educate Wisconsin's white population about "what it means to be black and live on Milwaukee's north side." He handed [WHA-AM Manager Jim] Robertson forty-five thousand dollars in special funding to do it.
[WHA-TV Director Ron] Bornstein took personal charge of the project. He had assistance from a former colleague at the University of Michigan, Ralph Johnson. Johnson had just started as WHA radio's production manager. The two worked directly with McNeil to produce a series of radio and television programs called The Inner Core: City within a City. Johnson did the bulk of the reporting. He spent two days a week in Milwaukee over the better part of a year talking to people, recording interviews, and producing thirty weekly radio programs. He told about a furniture con operation that regularly exploited inner-city residents. He produced a portrait of a seventeen-year-old young man who had been in Milwaukee for only seven months "and has managed to get himself into more trouble than most of us can arrange in a lifetime."
Johnson's enthusiasm mounted as he uncovered stories that shocked him as a white man and would surely shock other white people in the state. "At this point," he reported to his colleagues, "I feel quite sure that the inner core project is going to be one of the most significant things ever done in educational broadcasting." He was correct. However, his radio portraits received less recognition than the other two aspects of the project, a television documentary film, Pretty Soon Runs Out, and a five-evening series of live discussions broadcast on the public TV stations in Milwaukee and Madison and statewide on the FM network.
Robertson wanted to contract with award-winning documentarians Jack Willis and Fred Wardenburg to produce the television documentary. It would use most of the chancellor's forty-five thousand dollars. The two filmmakers had each produced reports for national audiences on social issues, particularly racial ones, in the South and in northern urban centers. For the Milwaukee documentary, they focused on housing segregation, a problem Catholic priest James Groppi dramatized that summer by leading marchers across a bridge from Milwaukee's north side to the white ethnic enclaves of its south. Robertson ran into a glitch, however. State law required that the governor approve no-bid contracts, and Governor Knowles had doubts about this one. Willis and Wardenburg went to work on the documentary with the contract languishing on the governor's desk. Meanwhile, Robertson argued that no governor should have control over public broadcast programming. Ultimately, the conciliatory Knowles did sign the contract, but with the proviso that "state administrators dealing with the inner core situation" would review the film before it was broadcast. At the preview of the documentary, Knowles walked out in the middle. He explained that he now understood why Milwaukee officials were so unhappy with it. Pretty Soon Runs Out won a regional Emmy Award, a first for any educational television station.
The inner core project reached its climax the week of March 29, 1968, with a five-day barrage of programming. A pro bono publicity effort supported it. Ben Barkan, a Milwaukee public relations impresario, organized publicity and enlisted additional support from two Milwaukee corporations. Radio ran all thirty of Johnson's radio programs that week. Indeed, it devoted half of its daytime broadcast hours to the topic, including special material on the Homemakers' Program, music programs, and even on School of the Air broadcasts. WHA-TV and Channel 10 in Milwaukee devoted their entire evening schedules to live discussions of inner core issues. These discussions aired live throughout the state on the FM network, and even some commercial stations rebroadcast them. Channel 10 provided the studio space and a director. UW Extension staff based in Milwaukee helped round up participants and audience members. Chancellor McNeil personally moderated the evening discussions, which proved as lively as expected. Conspicuously missing from the discussions were Milwaukee's mayor and any representative of the police department, who took a "no negotiation" stance toward the protesters. Those who did participate ranged "from militants and moderates to apathetics and extremists. Side by side, and face to face, people brought their anguish, frustration, and hope to the table."
Reaction was intense and overwhelmingly positive. As the New York Times reported, "The day after it was televised, the Milwaukee Council, after months of delay, unexpectedly passed a strong open housing ordinance. . . . Many Negroes said they believed the television program had something to do with it." Radio manager Karl Schmidt called it "WHA's finest hour," and told McNeil it could not have happened before radio and television moved to UW Extension.
The manager of a Milwaukee commercial television station, however, called the project a "total disaster" and a "disservice to Milwaukee." Claiming that "program participants were angry" and did not accurately represent inner core people, he said "WHA's irresponsibility" would make dialogue more difficult in the future.
Sources:
Ralph Johnson and Ron Bornstein, manuscript for "The Inner Core: City within a City," National Association of Educational Broadcasters Journal, November 1968, box 47, McNeil Papers.
Karl Schmidt, memo to radio staff, September 1, 1967, box 7, folder 6, WHA GCF.
Jim Robertson to Don McNeil, February 2, 1968, box 47, folder 1, McNeil Papers.
Governor Warren Knowles statement, February 22, 1968, box 47, folder 1, McNeil Papers.
Karl Schmidt, interview with author, June 6, 2013, Madison, WI.
Note from John Macy, April 15, 1969, box 8, WHA GCF.
Karl Schmidt to Don McNeil, May 1968, box 8, folder 14, WHA GCF.
Report of conversation with Roger LaGrand, May 10, 1968, box 8, folder 14, WHA GCF.
This item was excerpted from Wisconsin on the Air: 100 Years of Public Broadcasting in the State That Invented It, published by Wisconsin Historical Society Press. Author Jack Mitchell, PhD, led Wisconsin Public Radio from 1976 till 1997, initiating the transition from educational radio to WPR. Mitchell was the first employee of National Public Radio, where he was instrumental in developing the groundbreaking newsmagazine All Things Considered. He received the two highest honors in public radio, the Corporation for Public Broadcasting's Edward R. Murrow Award and the Edward Elson National Public Radio Distinguished Service Award. Mitchell joined the faculty of the UW-Madison School of Journalism and Mass Communication in 1998. He is the author of Listener Supported: The Culture and History of Public Radio.
This report is the copyright © of its original publisher. It is reproduced with permission by WisContext, a service of PBS Wisconsin and Wisconsin Public Radio.