Pesticides Pose Challenges To Vegetable Growers As Markets Change, Insects Adapt
'University Place': Russ Groves Discusses Neonicotinoids, Changing Pest Management Practices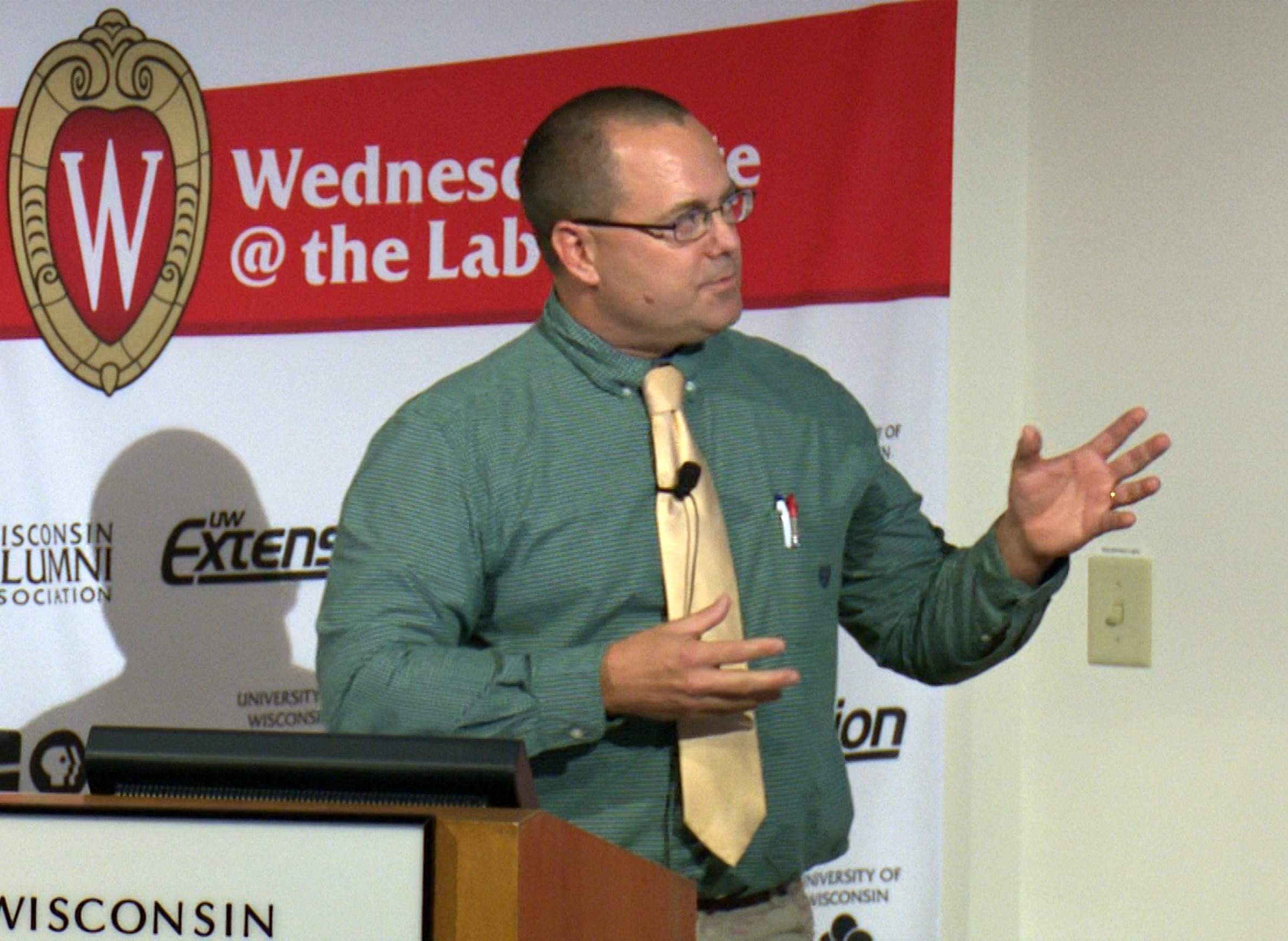 Wisconsin is a national leader in growing and processing numerous specialty crops that include sweet corn, green beans, peas, potatoes and, of course, cranberries. These plants attract plenty of pests that eat and damage the crops, making their management a primary concern of farmers.
Control of insects and other arthropod pests has been based on the application of a rotating suite of pesticides.
Russ Groves, an entomologist at the University of Wisconsin-Madison and a UW-Extension vegetable specialist, discussed pest control and its challenges in an Oct. 28, 2015 talk at the Wednesday Nite @ The Lab series on the UW-Madison campus. His presentation was recorded for Wisconsin Public Television's University Place.
New irrigation technology allows farmers to apply pesticides with water to specialty crops in a targeted manner. However, using these chemicals has environmental and economic consequences, Groves said. Pesticides may wind up in groundwater, and major food distributors are turning toward selling products with more of a "green" identity.
Groves also emphasized that quality and availability of groundwater is a concern that Wisconsin specialty crop producers are addressing. Practices intended to increase water efficiency, including the use of drip irrigation, micro-sprinklers and hydroponics, can also deliver reduced-risk insecticides.
Producers can combine multiple methods to keep agricultural pests to an acceptable level in a practice called integrated pest management. This suite of tools includes promoting natural enemies, placing baits and baiting systems, developing transgenic plants, fostering host plant resistance and using entomopathogens (that is, natural pathogens of insects).
Overall, the elements of integrated pest management include producers examining crops to determine whether pests are present, identifying specific pests, deciding how to proceed, and taking action, Groves explained, as well as the additional steps of following up to learn whether the intervention was appropriate and pursuing additional education in wake of those results.
Groves described efforts to control one of the most insecticide-resistant insects, the Colorado potato beetle. After first being registered in 1994, neonicotinoid insecticides were put into use and proved very effective against this pest. Farmers needed to apply the chemical only once in a growing season and it moved throughout a plant's system. But as with earlier pesticides, the Colorado potato beetle started developing resistance to neonicotinoids by 2005, and this adaptation was common by 2012, Groves explained, necessitating new methods to control the insect.
However, these neonicotinoid insecticides are still useful for controlling other pests, Groves said. Producers use in-furrow management practices with these insecticides on more than 85 percent of Wisconsin acreage. "In fact, right now, this class constitutes as much as 25 percent of the national market of pesticides," Groves added.
Groves is working with the Wisconsin Department of Agriculture, Trade and Consumer Protection to analyze data about neonicotinoid insecticides turning up in groundwater. Researchers are exploring the solubility and mobility of neonicotinoids in groundwater, but Groves said they're in low concentrations that should not be a concern for human health.
The potential link of neonicotinoid insecticides to the disappearance of bees through colony collapse disorder has prompted the U.S. Environmental Protection Agency to accelerate its analysis of the effects of neonicotinoid insecticides, Groves said.
Key facts
Wisconsin is the second largest vegetable processor in the U.S., and the leading producer of green beans, sweet corn, cranberries, ginseng and sauerkraut. Much of this vegetable production is concentrated in the state's Central Sands area.


Most of the canned vegetables sold in grocery stores come from Wisconsin and Minnesota, and four principal retailers feed 75 percent of U.S. residents.


Wisconsin's vegetable and fruit production engenders $1 billion in total economic activity and 9,900 jobs. Processing of specialty crops generates more than $5 billion in total economic activity and 24,800 jobs.


The economics of specialty crop production are shifting. Given changing water availability, the federal government has identified the Upper Midwest as an area of national security for food production. Additionally, consumer demand is prompting major retailers to require food with no detectable insecticide or pesticide residue. Public policy on sustainability, access to water, and food and fuel prices also affect the crop production market.


Wisconsin is seeing reduced groundwater quantity, especially in the Central Sands production area, where the Little Plover River has previously dried up.


The federal Council on Environmental Quality promotes integrated pest management as an economically efficient and environmentally sound approach.
Key quotes
On managing potato pests: "We typically focus on the key pest. And the key pests in potatoes are the Colorado potato beetle, a potato leafhopper and colonizing aphids. And we fashion our program around managing the key pests."


On the value of the neonicotinoid insecticides: "They could place them in the ground at planting. They would become water soluble, systemically mobile, and move throughout the plant and provide almost season-long protection."


On replacements for neonicotinoid insecticides: "I would say that, unfortunately, there are really no products on the horizon that have the same spectrum of activity or ease of use. There's not that many products that are systemically mobile and have that kind of residual activity for an industry."


On the effects of using agricultural chemicals: "The legacy of agriculture is right beneath our feet ... as far as the inputs that have gone into this system. The herbicides, the nitrates, the insecticides that we've talked about today, and to a lesser extent, fungicides."


On retailer demand for no detectable pesticide residue on specialty crops: "We have to learn how to use reduced-risk insecticides or even biopesticides."
This report was produced in a partnership between PBS Wisconsin and Wisconsin Public Radio. © Copyright 2023, Wisconsin Educational Communications Board and the University of Wisconsin-Madison.