Putting Suicide In Perspective In Wisconsin
How Age, Gender, And Guns Play Into A Public Health Crisis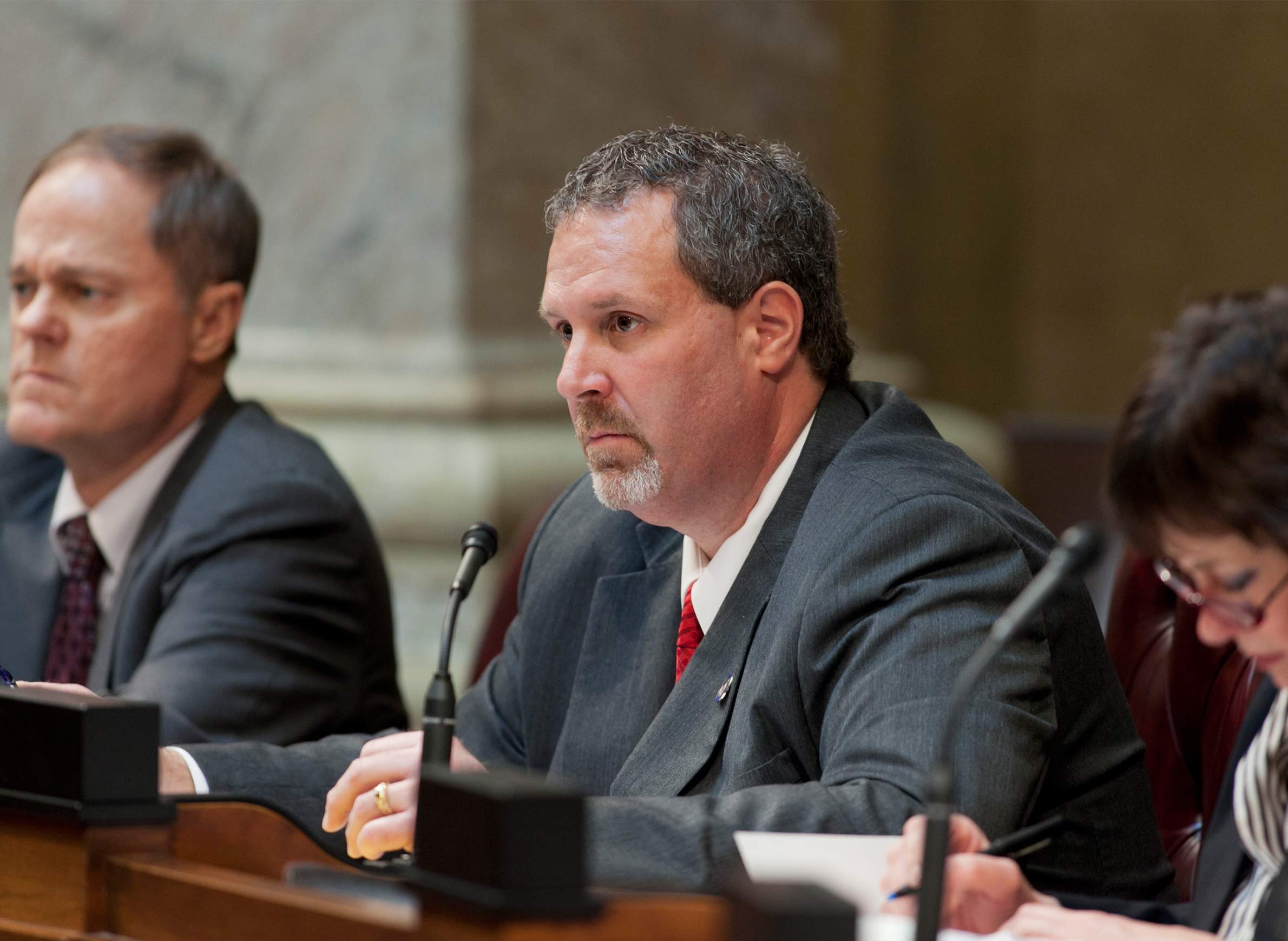 The death of state Sen. Rick Gudex and the announcement of a new state program aimed at preventing suicide among veterans have made suicide especially prominent in Wisconsin over the past week. Fond du Lac County officials said Gudex, 48, died of a self-inflicted gunshot wound in the town of Eden early on the morning on Oct. 12, 2016.
An Oct. 14, 2016 report on Wisconsin Public Television's Here And Now detailed how his death affected state politicians, leaving his fellow Republicans and Democratic colleagues in mourning.
The Wisconsin Department of Veterans Affairs announced the Zero Veteran Suicide Initiative with a release that pointed out veterans accounted for 18 percent of suicides in Wisconsin in 2014. The U.S. Centers for Disease Control and Prevention has called suicide "a serious public health problem around the world." But suicide remains widely misunderstood and difficult to discuss in even the best of circumstances. Facts about suicide may help:
Suicide is a leading cause of death.
Suicide may be statistically rare, but the CDC still found that it was the 10th most common cause of death in the United States overall in 2014. It is the second leading cause of death for people ages 10 through 34, and the fourth leading cause for people ages 35 to 54. For the 55 to 64 age group, suicide drops to eighth place, and it's not in the top 10 for people older than 65 or people younger than age 10. Overall, suicide rates went up in the United States from 1999 to 2014.
Men have the highest suicide rates.
In the wake of Gudex's death at age 48, reporters with Wisconsin's Gannett newspapers wrote about the prevalence of suicide among middle-aged Wisconsin men. "Suicide in this age group is sometimes referred to as the silent epidemic," the story noted. As mentioned, suicide is the fourth leading cause of death nationally for people of Gudex's age. Men also die by suicide far more often than women, nationally and in Wisconsin. From 1999 through 2014, state health data show, 8,819 males died by suicide, compared to 2,289 females — and Wisconsin's population, like the country's, is a pretty much even split between men and women.
Gunshots are the most common method of suicide, and suicide is the most common form of gun death.
Looking at state data on suicides for 1999-2014, a striking constant is firearms. People who die by suicide use guns more often than any other method. The rate at which they do has remained pretty consistent (averaging a rate of about 5.4 gun suicides per 100,000 population) and has retained a significant lead over every other method. One notable change, though, is that suffocation has eclipsed poisoning since 2006.
A FiveThirtyEight analysis of gun deaths in the United States found that about two-thirds are suicides.
Veterans as a group have a suicide problem.
Veterans' suicide rates increased more than civilians' suicide rates from 1999 to 2014, a major U.S. Department of Veterans Affairs study found. "After adjusting for differences in age and gender, risk for suicide was 21 percent higher among Veterans when compared with U.S. civilian adults," stated the report, which was released in August 2016.
The report showed differences in the age distributions of civilians and veterans who died by suicide. For instance, civilian males age 70 and older had a higher suicide rate than male veterans of the same age group. But male veterans ages 18 to 39 saw much higher suicide rates and much sharper increases than male civilians in that age group from 1999 to 2014. Just as significantly, while women have much lower suicide rates than men generally (still true among veterans), female veterans had higher rates than female civilians in almost all age groups. (This last point is harder to determine in older age groups, due to the long history of women being largely barred from U.S. military service; for instance, women were not admitted to West Point until 1976.)
Northern Wisconsin has higher suicide rates than the rest of the state.
Death statistics are a little tricky to interpret when dealing with sparsely populated areas, as small changes in actual deaths can cause rate fluctuations that appear to be big. It helps to take data gathered over several years, rather than just following year-to-year variations. State data show for 1999 to 2014, the Wisconsin counties with the highest suicide rates tended to be rural and concentrated in the northern and western parts of the state. Dividing the state up by regions, data from the state Department of Health Services show the northern, northeastern and western area have higher suicide rates than the more heavily populated south and southeast. Rick Gudex's home and the 18th state Senate District he represented are in the "Northeastern" region. Fond du Lac County, where he lived, ranks toward the middle of the pack in terms of suicide rates.
Federal authorities identify many of Wisconsin's rural counties and some urban parts of Milwaukee and Rock counties as lacking mental health services.
The way people think and talk about suicide is changing.
Societal perceptions of suicide and mental illness are gradually shifting. Studies of public attitudes about mental illness in the United States show that people have become more willing to discuss it openly, more likely to think of mental illness as being just as serious as physical illness and more opposed to stigmatizing mental illness as a weakness or moral failing. One reflection of this change is the language in this very article — it uses phrases like "died by suicide" rather than "committed suicide," in an effort to follow the American Foundation for Suicide Prevention's media guidelines. A widely used style guide for journalists adopted many of those suggestions. Changing attitudes about the nature of suicide have even made their way into the 2016 presidential election: Republican nominee Donald Trump sparked outrage when he suggested that veterans who die by suicide are less strong than other veterans.
Suicide-prevention resources are available at local and national levels.
Many government and private agencies offer support services including crisis phone lines, mental-health support groups, and free or low-cost therapy. NAMI Wisconsin and the national American Foundation for Suicide Prevention offer online resources. For localized assistance, 2-1-1 can be contacted by telephone.
This report was produced in a partnership between PBS Wisconsin and Wisconsin Public Radio. © Copyright 2021, Wisconsin Educational Communications Board and the University of Wisconsin-Madison.