Transit Mobility And Voter ID Requirements Collide In Madison
How Changing City's West Side DMV Locations Would Lengthen Bus Travel Times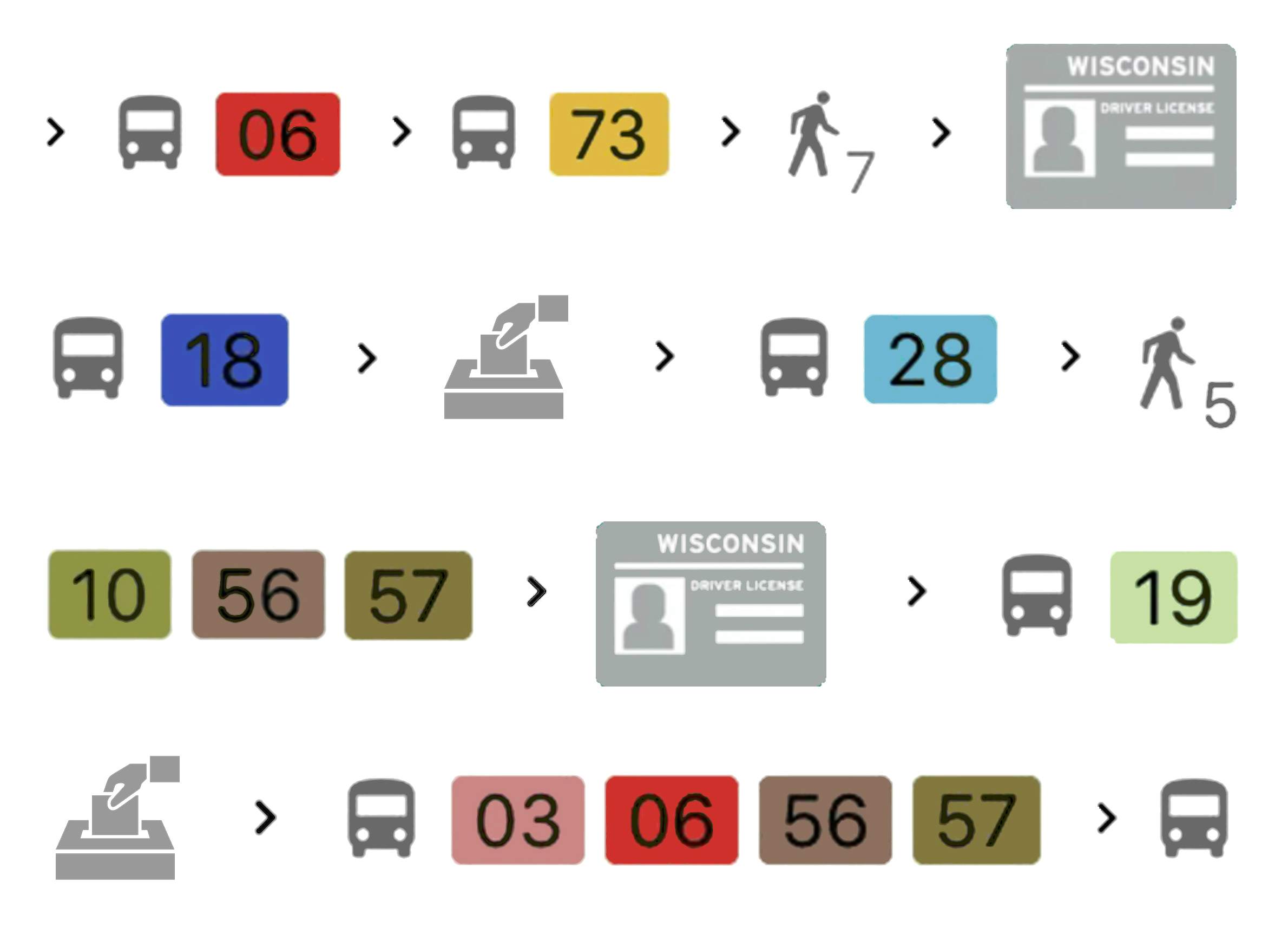 To understand why moving a couple of DMV locations in Madison would cause outcry, it helps to understand some of the finer points of getting around in Wisconsin's capital and second-most populous city. The Wisconsin Department of Transportation announced in August 2017 that two of its customer service centers on Madison's west side would close in early 2018, and would be consolidated into one office on the city's edge — nearly four miles by car from the most westerly of the two current locations.
For Madison-area residents who don't have a car and need to make sure they have a state-issued identification card in order to comply with Wisconsin's voter ID law in the November 2018 elections, this creates an obstacle. On Jan. 3, the city of Madison's civil rights division filed a complaint about the move with the U.S. Department of Transportation, stating it would negatively impact racial minorities and disabled residents who rely on the city's Metro Transit bus service.
Brook Soltvedt, president of the League of Women Voters of Dane County, explained how the DMV move could pose a challenge to voting rights in a Jan. 5, 2018 interview with Wisconsin Public Television's Here & Now.
"There are very few IDs that a citizen can use to vote," Soltvedt said. "Almost all of them require going to the DMV. It equates your right to vote with the ability to get to a DMV. So when you then make getting to the DMV more inaccessible to the very people who … are least likely to have a driver license or voter ID or Wisconsin ID card, it's a big problem."
Others objecting to this switch in DMV locations include the Madison Area Transportation Planning Board, which sent a letter to the state DOT in November urging a reversal in its decision, as well as the Madison Area Bus Advocates, which suggested several alternate approaches.
Madison's complex mobility picture
Directions in Madison are defined as compass points relative to the State Capitol in the heart of the city. Residents of the city may think of its west side as an area of affluent, white residents who have their own cars and don't worry too much about mobility. But in fact, the west side has its share of lower-income neighborhoods, and there are zones of significant poverty in a variety of areas along the edges of the entire city.
Unlike central Madison, the periphery of the city tends to be lower-density and more spread-out, which compounds the challenge of getting around whatever one's method of transportation. Given its need to serve a lot of low-income areas that rely on public transit, Madison Metro's job looks challenging indeed.
Whereas much bigger cities like Chicago have bus systems that correspond to a relatively tidy grid, Madison's urban layout is a bit more eccentric given its multiple lakes. In Chicago, one can board, say, the Damen Avenue or Chicago Avenue bus and travel more or less neatly in one cardinal direction or another.
Madison's bus system engineers a bit of connectivity among dozens of sprawling routes through four transfer points on the city's north, south, east and west sides. Bus stops on and near the city's Capitol Square also serve as a de facto transfer points, as many lines converge at this central location, giving passengers a place to transfer between buses depending on their specific starting points and destinations. Because of the way Madison is laid out, a typical bus route there will run through a whole sequence of different streets, ostensibly serving a whole set of specific community needs.
Take route 57, which can currently help riders get to either of the existing west-side DMV locations. It winds its way through a series of major arteries and not-so-major connectors, gradually taking passengers between the city's southwest and north sides.
The configuration of Madison's bus system, then, has a significant upshot: The further a starting point and/or destination of a bus trip is from the Capitol and denser downtown area, the longer a ride is likely to take, and the more planning ahead it's likely to require. If that trip is to the DMV to acquire or renew a license or ID — perhaps the most notorious time suck in American life — plotting out the return trip is even more onerous, especially during daytime weekday hours, when people have to balance such chores with work or childcare.
Amid this complex transit landscape, closing two DMV locations and reopening one farther west — where bus service, like the city itself, becomes more dispersed — does indeed up the ante for riders. Meanwhile, cab trips can get expensive pretty quickly, and drivers for ride-selling services like Lyft and Uber can be bad with directions, and not everyone has access to a smartphone, a generous mobile data plan, or even a credit card or bank account to make payments through a ride-hailing app.
When accounting for a new DMV location, the city can't simply alter bus routes overnight — adding or changing a line requires budgeting and the approval of several city commissions and Common Council. And along any given major bus route, there could be thousands of individuals and dozens of businesses and other institutions that depend its service. Ultimately, the process of changing a route can take months.
Planning the trip
To assess the concerns that Madison officials, voting-rights advocates and mobility groups have raised, WisContext examined transit times for the two current west-side DMV centers and the proposed new location. Using Madison Metro route maps and Google Maps transit directions, a reporter charted out how a bus rider would get to each location from one of three starting points: the Capitol Square, the West Transfer Point and the South Transfer Point. (A bus rider in the orbit of the North Transfer Point or East Transfer Point would almost certainly go to Madison's east-side DMV location off of U.S. Highway 51, which is slated to remain open.) Of course, not all bus riders start their trips on the Square or at one of the transfer points, but since so many routes use these hubs, they are a useful point of reference for the thousands of bus rides Madisonians take every day.
The two-current west side DMVs are conveniently situated relative to bus routes. The most central location, in the soon-to-be-replaced Hill Farms complex at 4802 Sheboygan Ave., enjoys proximity to one of Madison's main drags, University Avenue, and to the popular Hilldale shopping and dining area. A bit farther west and south, the location at 6514 Odana Rd. is close to West Towne Mall and sits between Gammon Road and Whitney Way, the latter being an important west-side artery, especially for bus lines.
The new DMV location will be at 8417 Excelsior Dr., which is fairly close to two bus lines, and a bit of a longer walk from one more. It's also situated off the main roads in a circuitous office-park area, which has sidewalks but can still be a pain to navigate on foot. It's an environment built for and around cars, located just beyond the Beltline, the freeway that rings the south and west sides of Madison. Adding walking time to a trip is significant, because it can disproportionately impact people with disabilities.
"Closing these two centers really makes it difficult for transit-dependent people and the people who work on the west side in Madison, and the neighborhoods that formerly depended on these service centers to actually get access to that," one Madison alder, Rebecca Kemble, told Madison radio station WORT.
Depending on where a person starts, a bus trip to the new DMV may be significantly longer than one to either of the current locations. Google Maps directions peg some of the trips to the Excelsior Drive location, including walking time, at 50 minutes, an hour or even more than an hour — and these are optimistic projections, as any regular bus rider knows.
Just as significant as travel times is the fact that the current west-side DMV locations give Madison bus riders numerous options, whatever direction they're coming from. Both sit along relatively dense corridors for bus routes. The Sheboygan Avenue/Hill Farms location is along routes 2, 8, 10, 15, 37, 56, 37, just counting the ones that stop right in front of it, not those that come relatively close along University Avenue and Whitney Way. The Odana Road location is right off route 73, and many other bus lines feed into that line via the West Transfer point one mile to the east. The weekend 63 line also stops right out front during the location's Saturday hours.
The new DMV location on Excelsior is directly served by two lines, the 73 (which stops about a third of a mile away) and the the 15. But during much of the daytime, the latter is not routed toward Excelsior Drive; rather, someone riding the 15 can get off near the Beltline and walk about a mile. Route 71 also stops about a mile from the Excelsior Drive location. (For its part, Madison's east-side DMV is directly off the 6 and 34 lines at various points of the day, and near other bus lines (20 and 25) given its proximity to East Washington Avenue/Hwy. 151.)
"Not that it is utterly inaccessible, but from most locations, the time that it would take you to get to this new location would be significantly increased and very often includes a lengthy distance that would have to be walked," Dane County League of Women Voters president Brook Soltvedt told Here & Now. "The busiest bus route or most direct bus route only operates during the peak hours, so that if you could get there early in the morning, you might not transact your business in time to take that short route back. Same at the end of the day."
According to Google Maps transit directions, here are the best-case travel times for people taking the bus to the current and proposed DMV locations on a weekday during the 8 a.m. hour:
During the noon hour:
During the 4 p.m. hour:
These times only reflect the projected travel time on foot and bus between the transit hubs and destination. They don't reflect how travel times might change due to traffic conditions or problems within the bus system, and of course they don't reflect the travel a given passenger might have to take from their nearest bus stop to a transit hub. They also don't account for the waiting time involved; the best-case trips start at different times within the surveyed hour. And again, these are best-case scenarios; if a given passenger doesn't catch one of these specific buses, they may have to catch the next one, adding wait time and as much as an additional half-hour of actual travel time to the journey.
As a general baseline, comparing travel times reveals a few things about the effect of the DMV move on Madisonians who depend on the bus system and need an ID to vote. People who rely on the West Transfer Point have pretty easy access to either west-side DMV — once they transfer, at least. Getting to the Excelsior Drive location would apparently tack on an additional 17 to 22 minutes, not counting other factors that can add to the length of a trip, the uncertainties of longer bus routes, nor a return trip. Adding 40 or so minutes to the journey might not sound like much, but even that can affect a rider's planning process and needs to do other things with that time.
The change would make for a longer haul for just about anyone using a bus to get to the new DMV. People coming from the Capitol Square who manage to catch one particularly quick ride on the 15 in the morning would have a best-case travel time of 35 minutes, compared to 34 minutes to the current Odana Road location or 19 minutes for the Hill Farms location.
What's striking is that people using the West Transfer Point would have a longer trip to a new DMV location than people coming from the Capitol Square currently have to the Hill Farms location. It's inevitable that DMV locations on the west side would be inconvenient for people on the south side or downtown. Both of the existing DMV locations on the west side makes it clear that it's possible to site a location near multiple bus lines — ones that already serve commercial areas. The Wisconsin DOT's plan places a new DMV nearly as far out to the west side as one can get by bus, and away from robust west-side areas of the bus network.
Speaking on Here & Now, Soltvedt also discussed how the issue of mobility intersects with the DMV's limited hours. A Wisconsin Department of Transportation spokesperson did not respond to a request for comment about the planned Excelsior Drive location's hours, but a DOT press release describes it as a five-day location.
"I would like to see the DMV open another service office similar to what we currently have on Odana Road that would be open more accessible hours as that one is," said Soltvedt. "That's another issue that wasn't addressed in [the city of Madison's] complaint, is the fact that that Odana Road office has later hours in the evening and is open most of the day on Saturday. Something that would be accessible to voters, low-income, racial minority, transit-dependent voters, to be able to get services, including voter ID."
This report was produced in a partnership between PBS Wisconsin and Wisconsin Public Radio. © Copyright 2023, Wisconsin Educational Communications Board and the University of Wisconsin-Madison.