Wisconsin Hospitals Adjust To Unusual Length Of IV Bag Deficit
Supply Disruption Strains Healthcare Providers, Spurs Labor-Intensive Treatment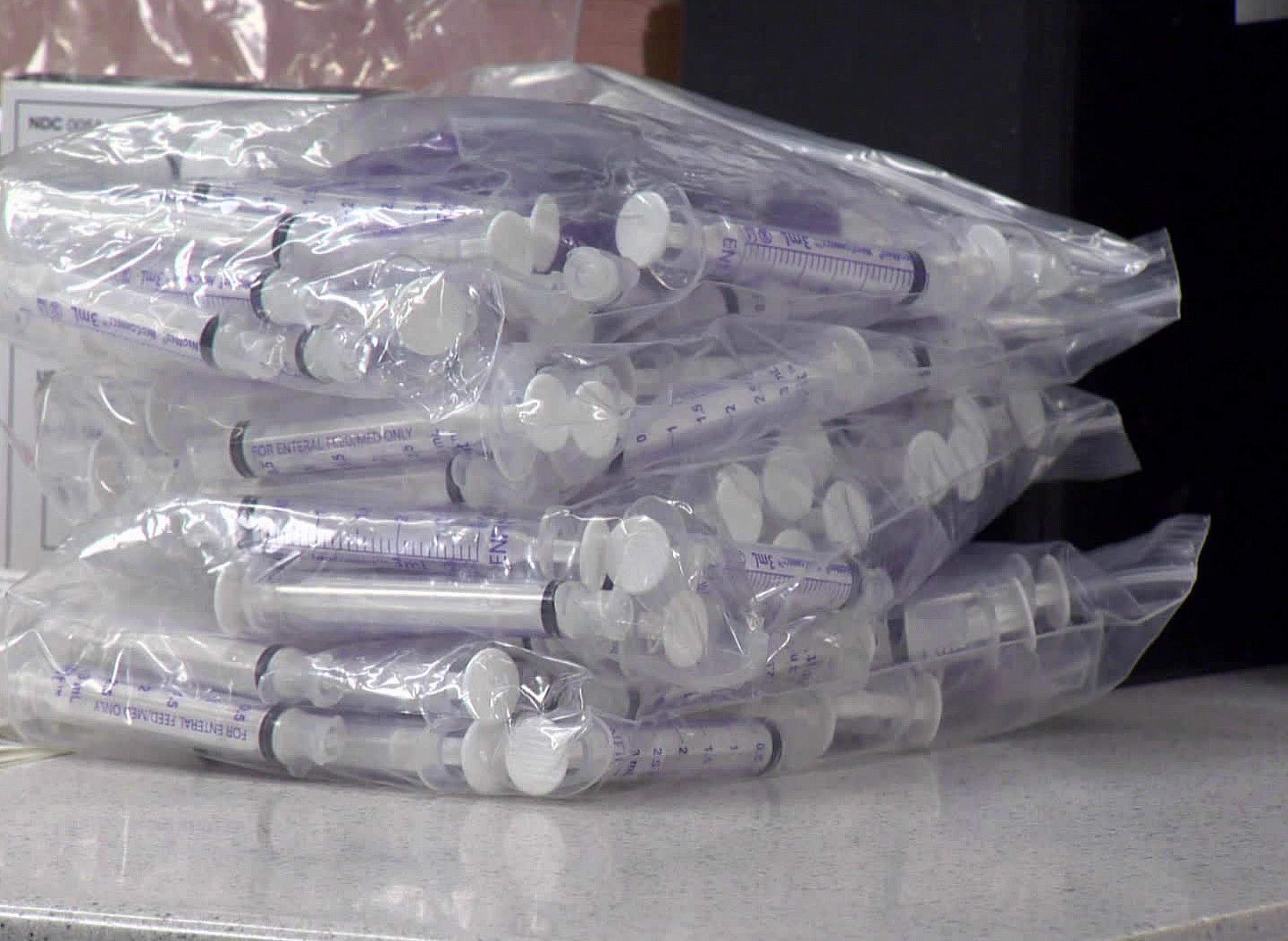 Healthcare providers across the United States are longing to get back to a steady drip.
One of the most commonly used medical supplies, IV bags, have been in short supply since September 2017, when Hurricane Maria knocked out power to manufacturers in Puerto Rico. Several months later, the shortage was still on, and hospitals across the nation and around Wisconsin continued to make do. Along with a need to make immediate adjustments, the shortage has pushed more people in the healthcare industry to talk about the underlying vulnerabilities of how supplies of drugs and medical gear are managed.
On Feb. 2, 2018, the Wisconsin Hospital Association released the results of a survey it conducted of its members. This survey found that more than five out of every six hospitals and health systems that responded are rationing their IV supplies, and almost half indicated these conservation strategies are affecting broader operational needs like staffing.
Ann Zenk, a registered nurse and the vice president of workforce and clinical practice for the hospital association, spoke about these findings in a Feb. 9 interview with Wisconsin Public Television's Here & Now.
"Right now hospitals are continuing to be able to cope in Wisconsin without it impacting directly on patient care," Zenk said. "But that means they're having to make a lot of conservation efforts."
As hospitals continue to struggle through the IV bag shortage and hope for a return for more stable supplies, here are few particulars to keep in mind.
What's different about this shortage?
Shortages of drugs and medical supplies happen. Healthcare providers are vulnerable to shortages because supplies of necessary medications and equipment aren't tracked or coordinated — if a pharmaceutical company discontinues a product that's not making enough money or a factory unexpectedly shuts down, that can put a hospital or clinic who needs that product in a bind.
But in her interview with Here & Now, Ann Zenk said medical supply lapses rarely go on for as long as the post-Hurricane Maria IV bag shortage has. The storm hit Puerto Rico in mid-September, so this shortage has persisted for nearly five months and is not abating.
"The difference in this shortage is that it's been of such a long duration," Zenk said.
Is the IV bag shortage hurting patients?
In its survey, the Wisconsin Hospital Association found that the IV bag shortage hasn't yet forced hospitals to delay or reschedule treatment for patients. That said, six percent of those members answering the survey reported they were "close to rescheduling procedures or sending patients to other facilities because they were so low on IV solution," an association press release noted.
All told, people are still getting the medical care they need, but some aspects are becoming more "labor intensive," Zenk told Here & Now.
IV bags provide patients things they need — like hydration, painkillers or antibiotics — on a steady drip over a period of time, without a nurse or other practitioner having to attend to the dosage constantly. If IV bags are scarce, providers might instead have to use syringes to administer medication, which involves spending a longer time working at each individual patient's bedside. Depending on what supplies an individual hospital or clinic is able to purchase, using a large IV bag — instead of smaller ones like the Baxter International minibag system, manufactured in Puerto Rico — might be an option, if not the preferred one.
"For patients, then, they would experience it as staff being at their bedside for longer periods...you might have questions about 'well, what are you doing with this syringe and stuff?'" Zenk said.
These seemingly small changes add up to a whole lot of extra strain and expense around patient care, as medical workers rethink their logistics to conserve supplies. The hospital association's survey data shows how a limited supply of one item can lead to cascading shortages of other things — members reported shortages of small and large IV bags, and to a lesser extent, shortages of IV containers, amino acid solutions and syringes.
"Nurse managers maybe have to schedule differently, schedule more nurses on a shift … the pharmacy technicians may work longer hours and use different supplies. It's really been labor-intensive and supply-intensive," Zenk said. All of it is making health care more expensive, and that's likely to put pressure on patients and providers alike.
What about the flu?
A particularly aggressive type of influenza has been putting a lot of people in the hospital in late 2017 and early 2018, particularly older adults. Like just about anybody else receiving treatment, these patients tend to need fluids and medications usually delivered via IV bags. So far, the flu season has put additional strain on IV bag supplies already stretched thin after the hurricane.
Epidemiologists believe flu activity is still approaching its peak, and there's concern about how long the season will continue at peak levels and how long it will be before it tapers off. As it started early, the 2017-18 flu season has already placed a lot of demand on the U.S. healthcare system, and if it becomes especially prolonged, the struggle to get enough IV bags will only become tougher.
How much longer will this shortage continue?
To make up for the shortage, healthcare providers are going to need to find IV bags from other manufacturers and distributors, which requires regulatory approval. During the fall and winter, the U.S. Food and Drug Administration gradually approved more imported IV bags.
Zenk said the hospital association may urge more regulatory action to stabilize the IV bag shortage. She noted that with new approvals, there might be an end in sight, but for now, Wisconsin's hospitals will continue to cope with a having basic piece of equipment being up in the air.
This report was produced in a partnership between PBS Wisconsin and Wisconsin Public Radio. © Copyright 2023, Wisconsin Educational Communications Board and the University of Wisconsin-Madison.