Wisconsin's 21st Century Wave of Half-Staff Flag Orders Has Roots in 1990s
More Frequent Memorials Started In Thompson Administration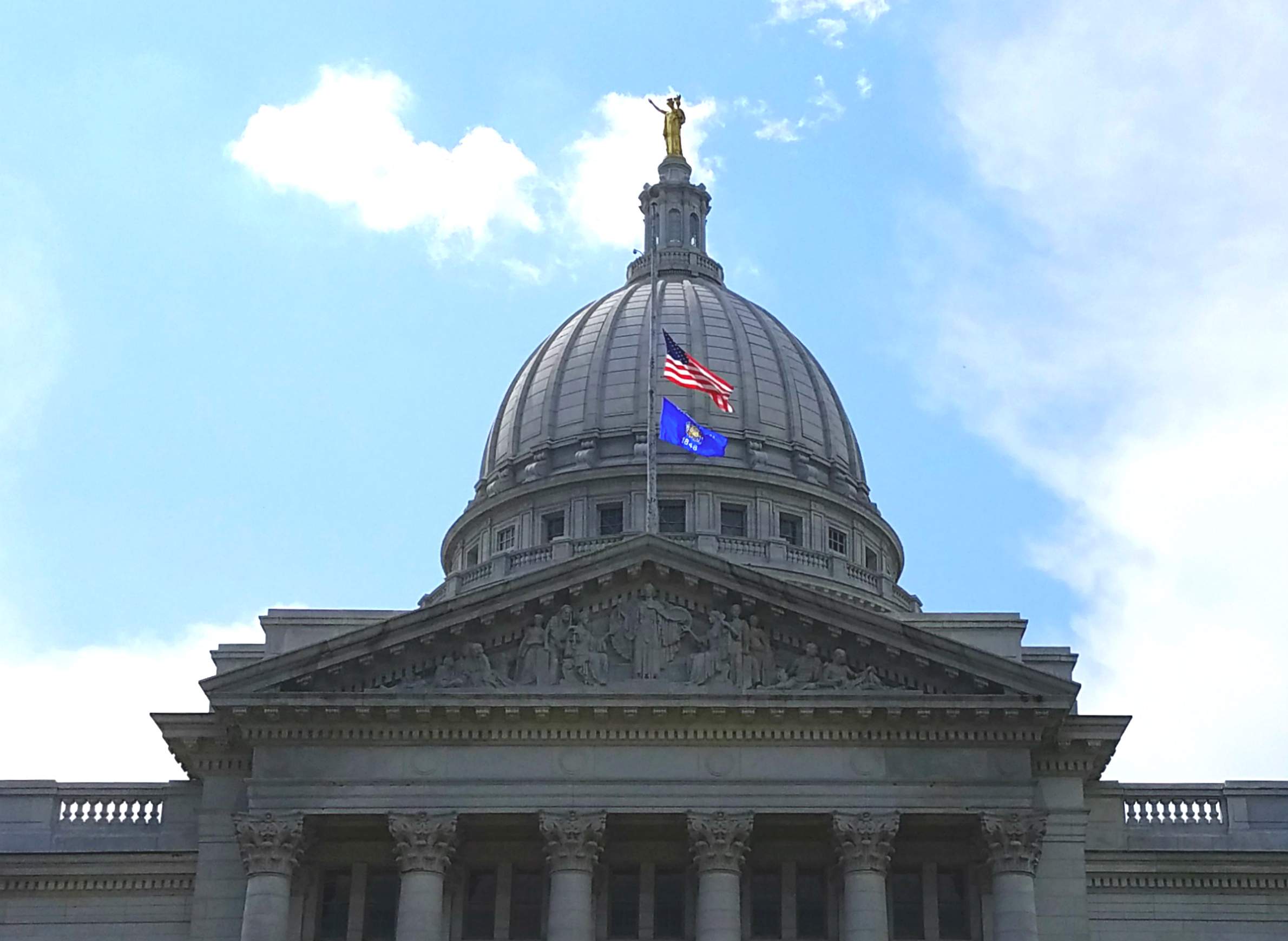 Flags at half-staff have become a universal symbol for mourning in America.
The gesture is centuries old, with its roots in a maritime tradition of lowering a ship's flag to half-mast to signify tragedy at sea, but the cultural embrace of it is relatively recent.
After September 11, 2001, flags were flown at half-staff with greater frequency, as the nation grappled with terrorism and war. Over the past decade, flags have also been increasingly lowered for victims of mass gun violence. But according to a WisContext analysis of federal and state records dating back to 1965, the incidence of official flag lowering began a steady climb in 1994, when Tommy Thompson was Wisconsin's governor.
For nearly 30 years up to 1994, Thompson was the only Wisconsin governor to issue executive orders to lower flags, while U.S. presidents ordered flags lowered to half-staff only on Memorial Day and upon the deaths of former presidents, Supreme Court justices and prominent senators, high-ranking military officials and foreign dignitaries such as former British Prime Minister Winston Churchill. In most years during the late 20th century, these practices meant that flags flew at half-staff only two or three times a year.
It's not clear why Thompson began lowering flags more often, with a focus on honoring individual public safety officers killed in the line of duty, as he did in 1994. A spokesman for Thompson said the former governor could not recall what prompted the change.
Brian Goerke, the director of the National Flag Foundation, based in Pittsburgh, speculated that the Wisconsin governor was part of a trend that took hold gradually.
"Just like with the president these days, the governors are trying to utilize any means they can to show executive leadership," Goerke said. "Here's an avenue that somebody embraced and so it became something that others looked to."
In 1994, Congress added two annual observances calling for flags to fly at half-staff. A major crime bill signed by President Bill Clinton amended the 1962 law establishing Peace Officers Memorial Day on May 15th, calling for flags to be lowered on that day. Congress also passed a law creating National Pearl Harbor Remembrance Day on December 7, a day when flags would also be lowered.
These changes were the first expansion of flag-lowering protocol since 1954, when President Dwight Eisenhower issued a proclamation establishing dates and times for when federal properties should fly flags at half-staff, such as 30 days after the death of a president or former president.
Eisenhower's proclamation also provided that the president could order flags to half-staff in the event of the death of other officials, former officials or foreign dignitaries, or "in accordance with recognized customs or practices not inconsistent with law."
That language, along with provisions of the U.S. Flag Code, leaves a lot of room for interpretation, and reasons for lowering flags have changed with changing times.
Governors generally follow suit on state-controlled properties when the president issues a flag-lowering proclamation. Sometimes, but not always, they issue separate executive orders when tragedy strikes beyond the state's borders.
In 1995, Thompson ordered flags lowered when three U.S. diplomats died in a car accident in Bosnia as they were trying to negotiate a peace deal in the Balkans.
In 1998, he ordered flags lowered following terrorist attacks on embassies in Nairobi, Kenya and Dar es Salaam, Tanzania. Another executive order lowered Wisconsin flags that year when two U.S. Capitol Police were killed on duty.
Thompson also ordered flags to half-staff in 1997 when a cargo plane assigned to the Milwaukee-based Air Force 440th Airlift Wing crashed in Honduras, killing three Air Force reservists from Wisconsin.
In all, records show that Thompson issued 67 flag-lowering orders during his 14 years as Wisconsin's governor, an average of about five times per year. His successors, former Govs. Scott McCallum and Jim Doyle, and current Gov. Scott Walker have ordered flags lowered more than 400 times since 2001. The reasons vary, but are usually related to annual observances, the death of distinguished public officials, to honor public safety officials and active-duty service members killed in the line of duty, and increasingly, the victims of mass shootings.
In 2001, Congress added two more annual observances that call for flags to be lowered to half staff; Patriot Day, on September 11, and the first Sunday in October, as part of the National Fallen Firefighters Memorial Service. Under a state law passed in 2011, Wisconsin Firefighters Memorial Day is observed on the Saturday at the end of Fire Prevention Week.
Vexillologist Jim Ferrigan, who curates the Zaricor Flag Collection, which gathers and preserves rare U.S. flags, said the half-staff ritual has taken on significance as traditional ways of mourning, such as wearing black clothing or armbands, faded after the 19th century.
"A lot of that's been transferred or retained by the flag," Ferrigan said.
This report was produced in a partnership between PBS Wisconsin and Wisconsin Public Radio. © Copyright 2023, Wisconsin Educational Communications Board and the University of Wisconsin-Madison.