The Heyday Of The Ice Harvesting Industry In Madison
University Place: How Rail And Refrigeration Bookended A Frozen Business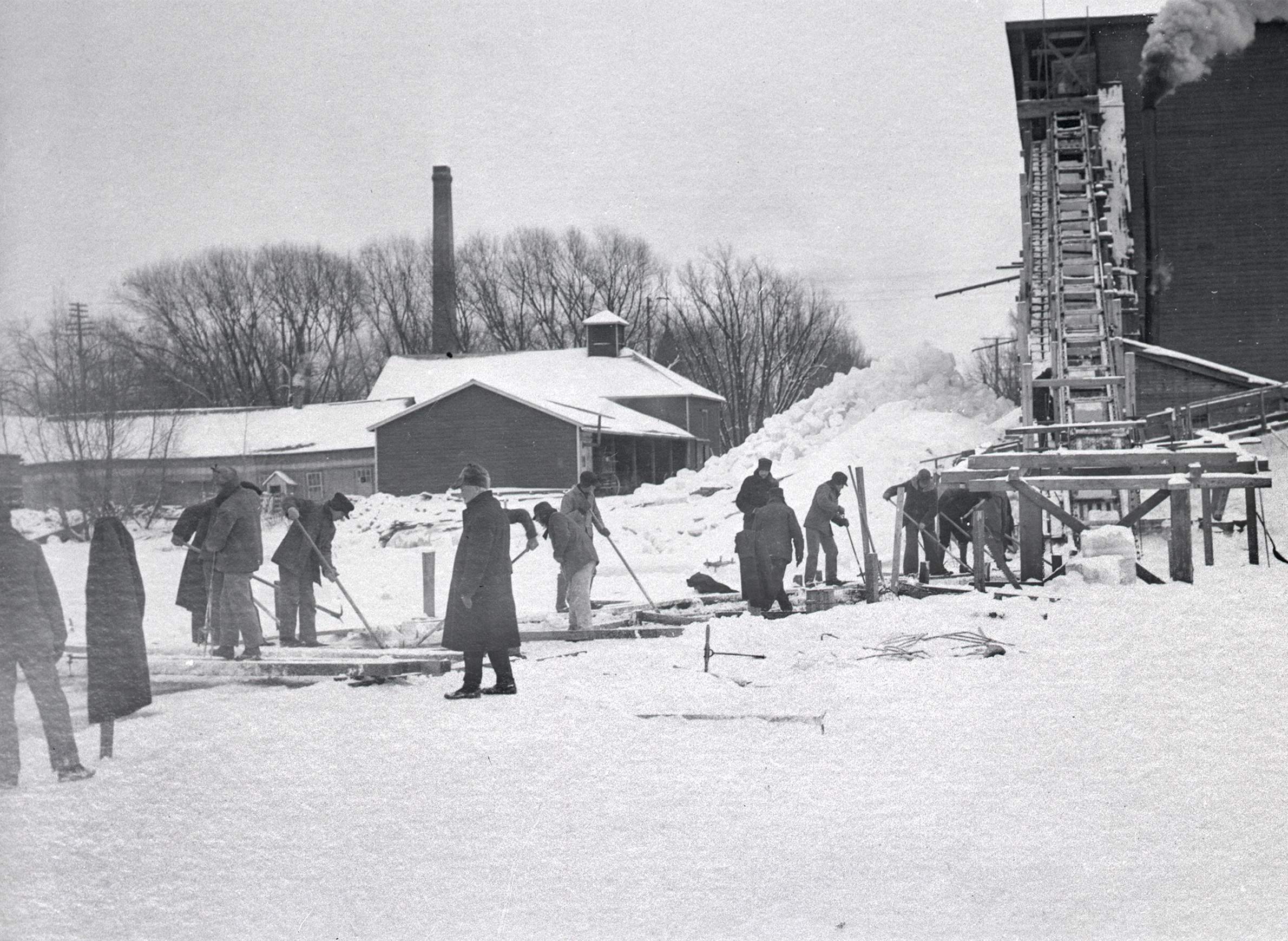 Before the widespread availability of electricity allowed Americans to cool food with the flip of a switch, they relied on iceboxes. For decades before World War I, much of the ice used in these simple appliances was harvested from frozen Wisconsin lakes during the depths of winter.
Cut into blocks, this ice would sit insulated within mounds of sawdust inside ramshackle icehouses until it was used nearby or, more often, shipped via rail to Chicago and from there across the United States. During the heyday of ice harvesting in Wisconsin in the late 19th century, blocks of ice hewn from frozen lakes and rivers in La Crosse, Eau Claire, Neenah, Manitowoc and dozens of other communities could very well wind up the next summer chilling meat in iceboxes as distant as Texas or Arizona.
In Madison, several large lakes provided plentiful ice in the wintertime to support a large ice harvesting industry. The sector employed hundreds of seasonal laborers (often farmhands) who worked and boarded at a number of competing ventures. The larger of these companies included Conklin & Sons, which sold most of its ice locally and, among other locations, operated a large harvesting operation and icehouse near the present location of James Madison Park in downtown Madison.
Indeed, several lakeside parks integral to Madison's later urban landscape are located on land that formerly hosted large wooden icehouses. These include Wingra Park and Boat Livery, which was previously the site of a massive icehouse owned variously by the Knickerbocker Ice Company, Consumer Ice and Fuel Company, and Conklin. Present-day Olbrich Park was also the site of several ice harvesting operations around the turn of the 20th century.
What all of these sites had in common was easy access to a new and growing Midwestern rail network. Several rail companies operated lines that connected Madison to the wider world via Chicago, and short rail spurs were built to carry ice and other goods from the southern shore of Lake Mendota, eastern shore of Lake Monona and northern shore of Lake Wingra.
Ann Waidelich, a retired reference librarian for the Madison Public Library and a local historian, recounted the vibrant history of ice harvesting from Madison's lakes in a Jan. 17, 2017 talk at the Wisconsin Historical Museum recorded for PBS Wisconsin's University Place.
The ice industry in Madison and across all of Wisconsin was made possible thanks to a mix of geography along with industrial and cultural developments, Waidelich explained.
First, Wisconsin's cold, northern climate and abundance of lakes, many of which were dammed by early European settlers and thus made less marshy, provided an ample resource of clear, hard ice.
Then, rising demand for chilled beer and meat led to explosive growth of the brewing and meatpacking industries in Milwaukee, Chicago and elsewhere, creating a vast new demand for year-round ice in Wisconsin and the rest of the nation.
Finally, expanding rail networks centered on Chicago, along with the invention of the refrigerated rail car, created easy market access for products harvested in Wisconsin, including passenger pigeons, deer and ice. When it came to the ice harvest, the southern part of the state was well situated. The ice industry sprang up in communities across the region with access to rail and freshwater, including Lake Mills and Milwaukee.
"Lakes near railroad lines throughout this whole region were only overnight from Chicago," Waidelich said, "a vital consideration for the summer transport of ice."
Huge amounts of ice left Madison and other Wisconsin cities via railcars. Waidelich recounted a Wisconsin State Journal article from 1901 that estimated about 100,000 tons of ice would be harvested from Madison's three lakes the upcoming winter. Some of the ice, primarily that harvested by Conklin & Sons, would stay in the local market, but huge amounts were shipped to Chicago, and from there all over the nation, and in particular the American Southwest, Waidelich said.
Industrial development and population growth heralded the end of much of Madison's ice harvest by World War I. In 1908, the Chicago Board of Health closed that city's domestic market to ice from Lake Mendota and Lake Monona due to health concerns as raw sewage and waste from factories were dumped into the latter in particular. By 1911, the water in Lake Monona was so polluted that the Wisconsin Legislature outlawed ice harvesting on the lake.
The harvest persisted on the cleaner Lake Wingra through the 1920s.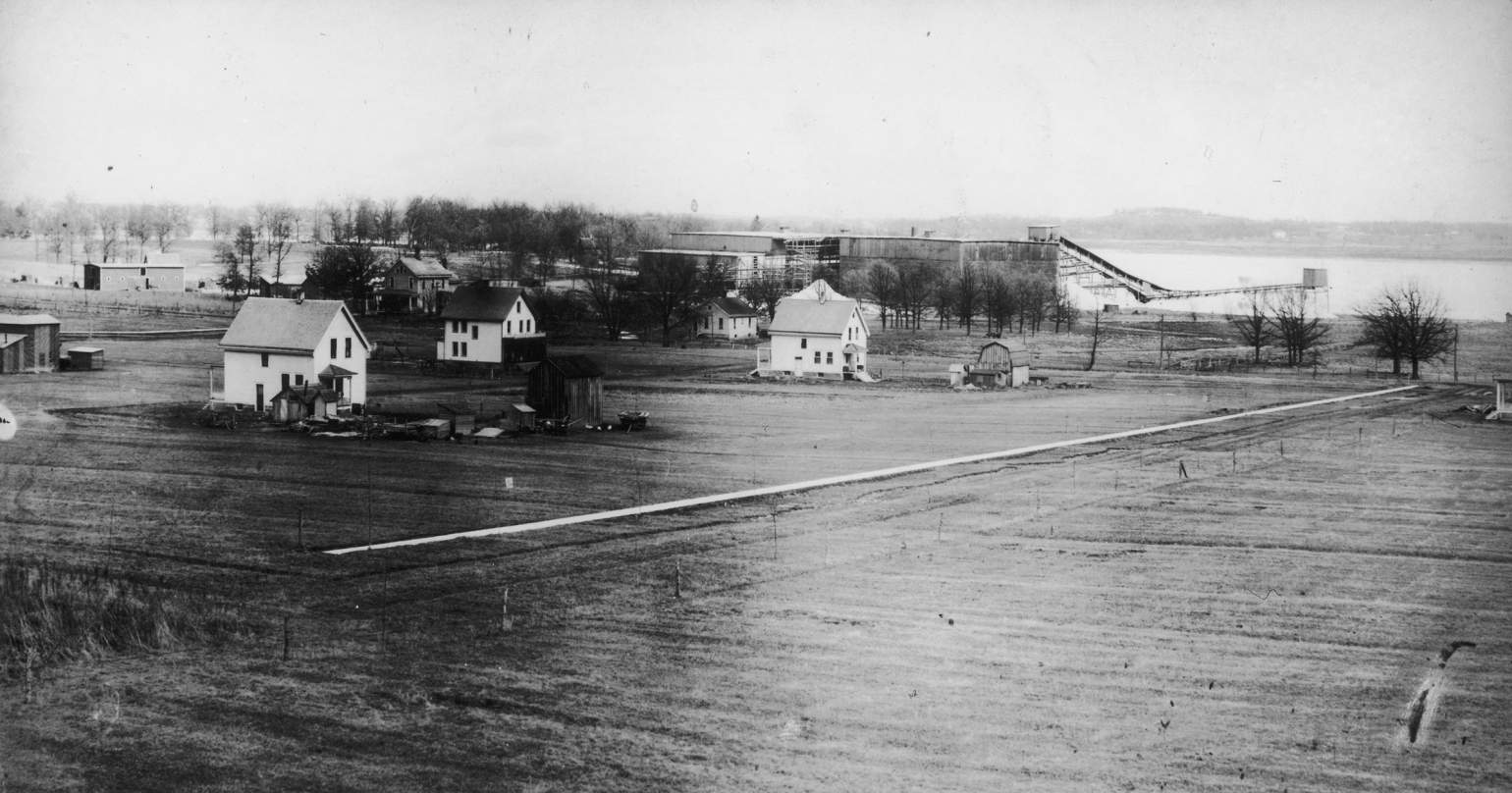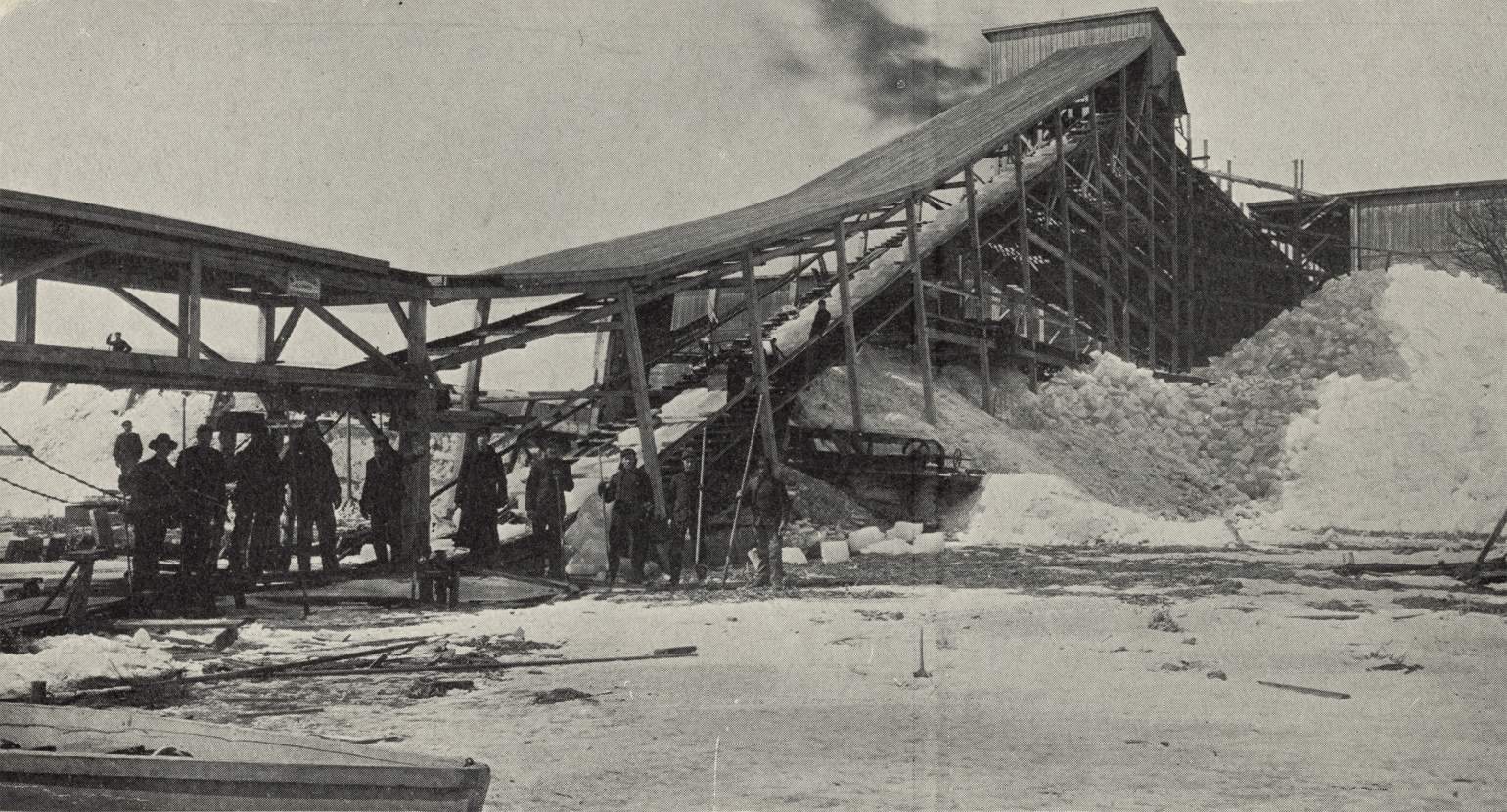 The ice harvest shaped Madison's culture and workforce for decades beyond its waning years. Waidelich said Oscar Mayer's century-long run in Madison is in no small part thanks to the city's historical access to ample ice, which was essential for meatpacking. Indeed, Oscar Mayer bought Conklin & Sons and continued in the ice delivery business, though with "mechanical" ice, for decades.
Finally, widespread electrification and the development of chemical refrigerants in the 1920s eventually made low-tech iceboxes obsolete.
"By 1930, more mechanical refrigerators were sold than iceboxes," Waidelich said. In 1932, Madison's last remaining large icehouse, owned at that point by Conklin & Sons and located near the present-day site of Wingra Boats, was demolished following a windstorm.
Key facts
Commercial harvesting of lake ice had become a standardized and very efficient process by the 1850s.


A primary reason for the rise of a large-scale harvesting and shipping of natural ice in Wisconsin was the growth of the brewing and meatpacking industries, proximity to Chicago and access to the nation's vast rail network.


In the late 19th century, ice dealers in the Madison area advertised ice for households around $2 a month for 20 pounds of ice per day, a figure considered quite expensive at the time.


Along with supplies from Maine, Wisconsin ice was described as the highest quality in hardness and thickness within the pages of cold storage trade journals in the latter 19th century and early 20th century.


In 1906, a sugar beet processing factory opened on the site of the present-day Garver Feed Mill, and processing waste was dumped into Starkweather Creek, which feeds Lake Monona. The waste degraded Lake Monona ice and contributed to its falling out of favor with consumers.


In 1908, the Chicago Board of Health closed the Chicago domestic market to ice from all of Madison's lakes with the exception of Lake Wingra due to worsening ice quality. In 1911, the Wisconsin Legislature passed a law forbidding ice harvesting on Lake Monona due a growing amount of industrial waste and unprocessed sewage flowing into the lake.


Wisconsin's illustrious ice harvesting history has been relegated to history, though it lives on through historical demonstrations in communities like Nekoosa.
Key quotes
On what created the conditions for high-quality commercial ice: "Wisconsin's lakes were often an ice-cutter's delight. Many of them had been dammed at their outlets soon after settlement and in order to provide water power and the raised water levels eliminated much of the marshy shore and very shallow, weed-infested waters."


On a crucial rail network that allowed Wisconsin ice to be used nationally: "The tapping of the lake country of southern Wisconsin was made economically possible by the widespread railroad lines of the primary ice carrier, the Chicago, Milwaukee, and St. Paul Railroad, the expanding tracks of the Chicago and Northwestern Railroad, and the extension of the Illinois Central Railroad to Madison in 1887. Lakes near railroad lines throughout this whole region were only overnight from Chicago, a vital consideration for the summer transport of ice."


On the laborers who commonly took work as an ice harvester: "The men who cut the ice out of these lakes were often displaced farmhands. They were single men. They would work on the farms and then they harvest, but then they didn't have anything to do in the winter, so they would hire themselves out to be ice cutters in the wintertime."


On one method ice cutters would take to fortify themselves against bitter cold: "An indispensable aid to the harvesting was whiskey, which steeled the workers against the rigors of winter … because they did not have the wonderful, insulated clothing that we have today."


On problems with ice-based refrigeration: "Although ice had great merits as a refrigerant, it was not perfect. It melted and had to be replaced, and it made the consumer dependent upon the visits of the iceman. Moreover, it did not provide, at least conveniently, the freezing temperatures which were increasingly in demand."
This report was produced in a partnership between PBS Wisconsin and Wisconsin Public Radio. © Copyright 2023, Wisconsin Educational Communications Board and the University of Wisconsin-Madison.